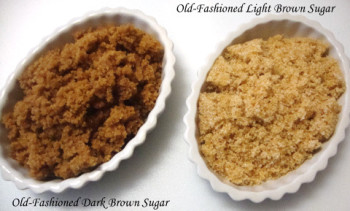 Homemade organic dark brown and light brown sugar are both very easy to make and they have a warmer color and much richer flavor compared to their commercially processed counterparts.
Ingredients:
• 1 cup organic cane sugar
• ¼ cup organic unsulfured molasses (for dark brown sugar)
or 1 T organic unsulfured molasses (for light brown sugar)
Technique:
Place the organic sugar in a food processor with a standard chopping blade. Begin processing and drizzle the molasses into the food processor through the food chute. Continue processing until evenly combined. Store the brown sugar in an airtight container at room temperature.

Old-Fashioned Brown Sugar (Organic)