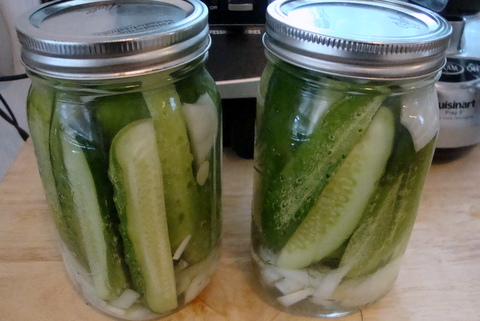 These easy-to-make pickles are fresh, crisp, tangy and nicely seasoned. The amount of brine is sufficient for preparing 2 quarts of pickles.
Ingredients:
• cucumbers, any variety, but pickling cucumbers are best
• 1 large onion, thinly sliced
• 3 cups filtered water
• ½ cup champagne vinegar or white vinegar
• 3 T sea salt or kosher salt
• 1 T organic sugar
• 2 T minced garlic (6 cloves)
• 2 T fresh chopped dill
• 1 tsp whole coriander seeds (optional)
• 1 tsp whole peppercorns or ½ tsp red pepper flakes (optional)
• 2 bay leaves
Technique:
In a bowl or large measuring cup, dissolve the salt and sugar in the vinegar and water to create the brine. Add the onion, garlic, bay leaves, dill and optional coriander seeds and pepper to a large container with a lid, or divide among 2 mason jars.
For smaller cucumbers, such as pickling cucumbers, leave unpeeled and slice in half or quarter lengthwise. For larger salad cucumbers which have tougher skins, use a vegetable peeler to cut strips of peel away, leaving some of the peel intact. This gives the cucumbers a nice variegated appearance; then cut into ¼ to ½-inch crosswise slices.
Stand the spears upright or layer the slices in the 2 jars. If using a large container, lay the spears on their side or layer the slices.
Pour the brine over the cucumbers, submerging them completely. Cover tightly. Refrigerate for a minimum of 72 hours, but the longer they "pickle", the better. Enjoy!