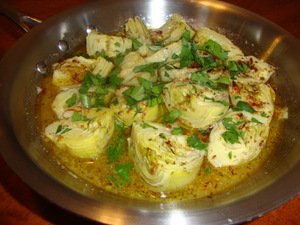 A very simple yet elegant way to serve artichoke hearts as an appetizer.
Ingredients:
• 1 can (14 oz. before draining) artichoke hearts, rinsed well, drained and halved
• 2 T Better Butter (from my cookbook) or commercial vegan margarine
• 2 T olive oil
• 4 tsp minced garlic (4 cloves)
• 1 tsp dried oregano
• ½ tsp cornstarch, potato starch or arrowroot powder
• ½ cup dry white wine (e.g., Chardonnay, Sauvignon Blanc)
• ¼ teaspoon red-pepper flakes, or to taste
• pinch sea salt or kosher salt
• 1 T chopped fresh flat-leaf parsley
Technique:
In a small saucepan over medium heat, warm the olive oil. Add the butter or margarine and stir until melted. Add the garlic and oregano and sauté for 1 minute.
Whisk in the starch until smooth and then whisk in the wine. Add the red pepper flakes and salt. Bring to a simmer, stirring frequently, for about 2 minutes, and then remove from the heat.
In a small heatproof chafing dish or skillet, arrange the halved artichoke hearts. Pour the sauce over and place under the broiler to heat through, about 5 to 6 minutes. Garnish with chopped parsley and additional red pepper flakes if desired.
Serve with a crusty Italian bread to soak up the extra sauce.