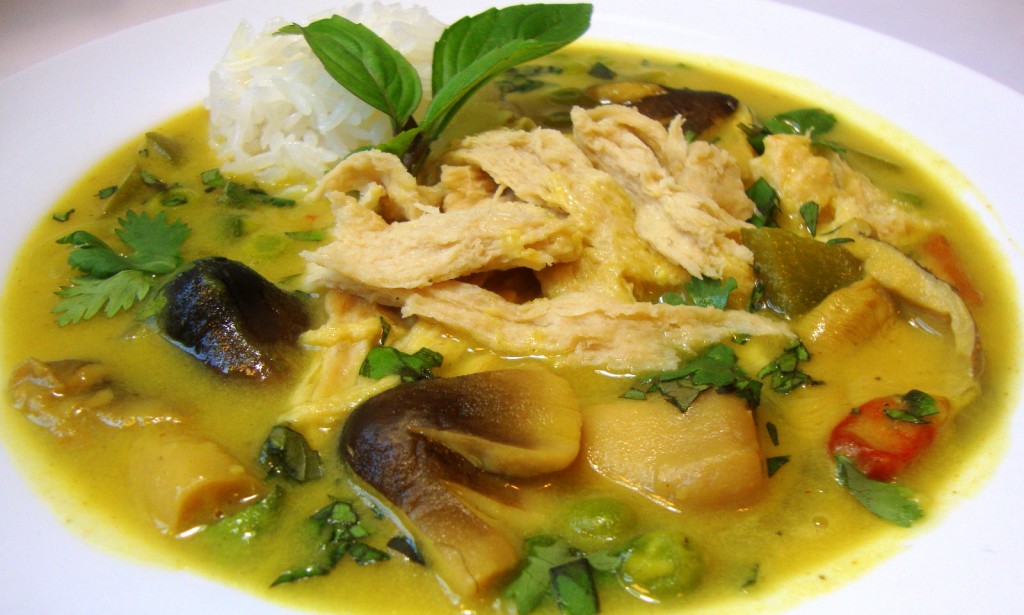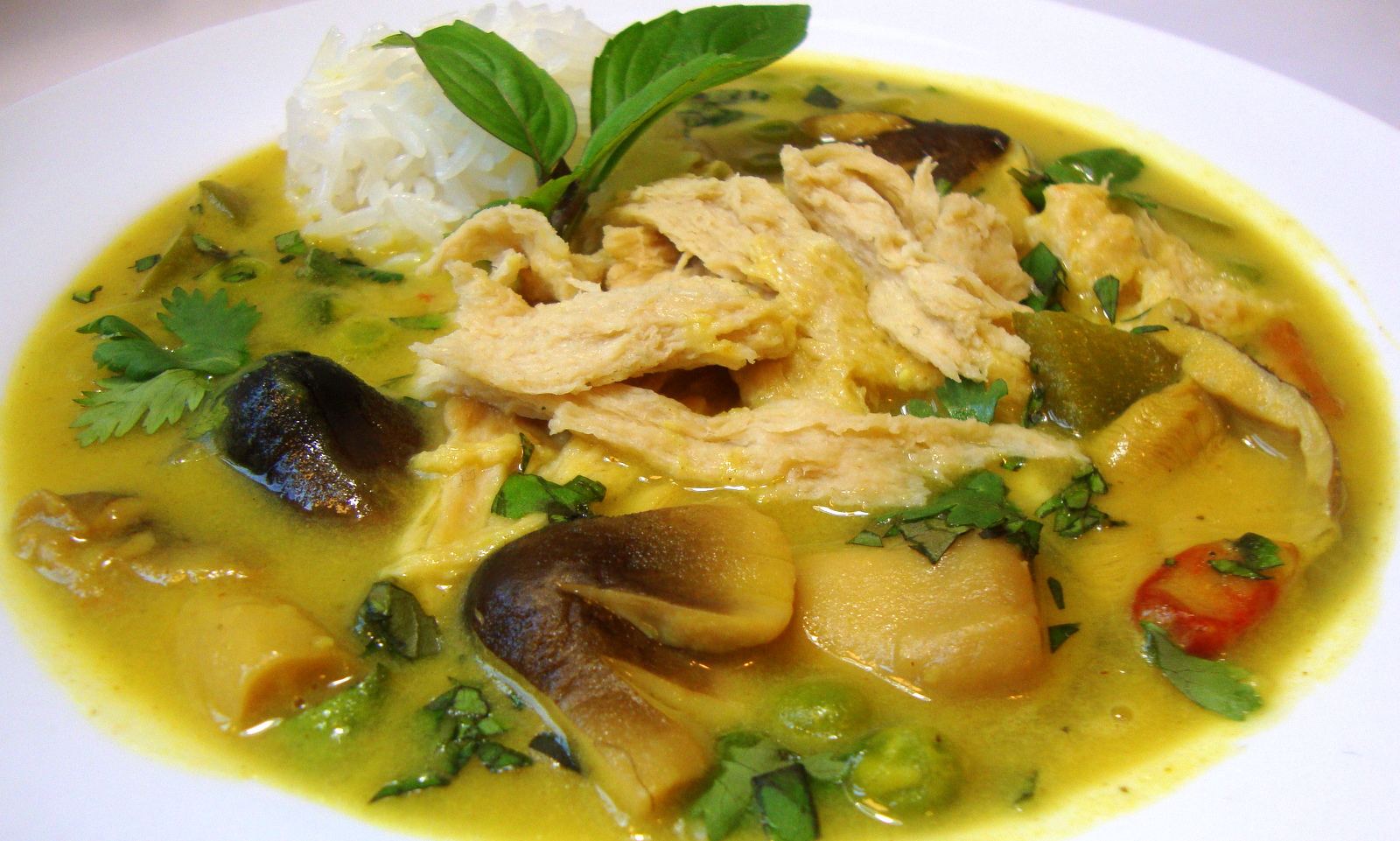 Ingredients
• 4 cups vegan no-chicken broth or similar
• 2 medium russet potatoes, peeled and diced
• 1 T grated ginger
• 3 cloves garlic, chopped
• 4 tsp yellow curry powder
• 1 medium onion, peeled and chopped
• 1 large green bell pepper, chopped
• 1 can (14 oz) coconut milk (full fat; not lite)
• ½ cup green peas, fresh or from frozen
• 1 can (15 oz) straw mushrooms
• 2 tsp sambal oelek (chili paste) or other hot red pepper sauce, or to taste
• a few Thai bird's eye chilies (optional)
• 1 and ½ cup Stewing Chikun, torn into bite-size pieces; or Shredded Chikun (both from the Seitan and Beyond Cookbook; the Soy Chikun Strips from the same cookbook can be used as substitute if desired; or simply use bite-size cubes of pressed tofu or additional vegetables if you wish to omit the chikun or tofu entirely)
• sea salt or kosher salt, to taste
• chopped Thai basil for garnish (optional)
• chopped cilantro for garnish (optional)
• cooked jasmine rice for serving
Preparation
In a large soup pot, simmer the potatoes, ginger, garlic and curry powder until the potatoes are tender, about 20 minutes. Transfer to a blender and process until smooth (exercise caution when blending hot liquids; place a kitchen towel over the blender lid and begin on low speed progressing slowly to high speed).
Transfer the purée back to the soup pot. Place over medium-low heat and stir in the coconut milk.
Mist a skillet with cooking oil and sauté the onions and bell pepper over medium heat until softened. Add to the soup pot. Stir in the peas, mushrooms, sambal oelek and optional bird's eye chilies. Cover and simmer about 20 minutes or until the bell pepper is very tender.
Add the Stewing Chikun and simmer an additional 10 minutes; season with salt to taste. If using Shredded Chikun, stir into the curry just before serving. Garnish with the Thai basil and cilantro.
Warning: Do not eat the bird's eye chilies!