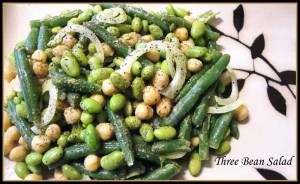 Fresh cooked green beans, mukimame (shelled edamame aka green soybeans), chickpeas and sliced onion are tossed with a light and refreshing cumin-scented vinaigrette.
Ingredients:
• 1 lb. fresh green beans, ends trimmed
• 1 lb. frozen mukimame (shelled edamame)
• 1 can (16 oz.) garbanzo beans (chickpeas), rinsed well and drained
• ½ small sweet onion, sliced paper thin
• 1 tsp cumin seeds
• ¼ cup olive oil
• 2 T white wine vinegar
• 2 T fresh lemon juice
• 1 T sesame tahini
• 1 tsp sea salt or kosher salt
• 1 handful fresh parsley
• 1 clove garlic (1 tsp minced)
• ¼ tsp cayenne pepper
• coarse ground black pepper, to taste
Technique:
Steam the green beans until crisp tender. Rinse with cold water to stop the cooking process and drain. Cook the mukimame according to the package directions; rinse with cold water and drain. Add the green beans and the mukimame to a large mixing bowl. Add the thoroughly rinsed chickpeas and the sliced onion. Set aside.
In a small skillet, toast the cumin seeds over medium heat until fragrant. Place the cumin seeds in a blender with the remaining ingredients except for the black pepper and process until smooth. Pour over the beans and gently toss to avoid breaking the green beans. Add the black pepper, to taste, and gently toss again. Chill for a minimum of 30 minutes to blend the flavors before serving.

Three Bean Salad with Cumin-Scented Vinaigrette