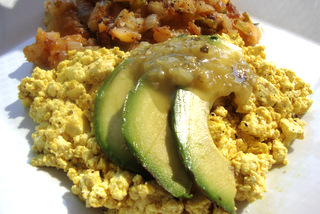 When preparing tofu scrambles, achieving the ideal balance of color and flavor can often be tricky. This blend will alleviate the guesswork for you; and if you prepare tofu scrambles frequently, then this seasoning blend will be a timesaver in your morning breakfast routine. This recipe yields ¾ cup of seasoning powder which will season about 16 blocks of tofu.
For each 14 oz. block of water-packed tofu, use 2 and ¼ teaspoons seasoning; or use the recipe for the basic tofu scramble (recipe follows).
Ingredients:
• 1 cup nutritional yeast flakes or ½ cup nutritional yeast powder
• 2 T onion powder
• 2 T kala namak (Himalayan black salt)
• 2 tsp paprika
• 2 tsp turmeric
Technique:
Place the ingredients in a DRY food processor or blender and process until a fine powder is achieved. Store the seasoning blend in an airtight container in your pantry until ready to use. Use the powder within 6 months.
For the basic scramble, you will need:
• 1 block (14 oz.) soft to firm water-packed tofu*
(silken tofu is not recommended for this recipe)
• 2 and ¼ tsp Tofu Scramble Seasoning Blend (see preceding recipe)
• 2 T Better Butter (from my cookbooks) or commercial vegan margarine
• coarse ground black pepper to taste
* I personally recommend soft to medium water-packed tofu for the best scramble texture.
Drain and press the tofu until it is not releasing any more liquid.
Crumble the tofu into a mixing bowl, sprinkle in the seasoning and toss thoroughly to blend. Avoid mashing the tofu.
Melt the butter or margarine in a skillet over medium heat. Do not let the butter brown. Add the seasoned tofu and "scramble" (push and fold the mixture with a spatula) until the tofu is heated through and resembles scrambled eggs. Season the scramble with pepper to taste (and add additional salt as desired). Serve immediately.
Tofu Scramble Seasoning Blend