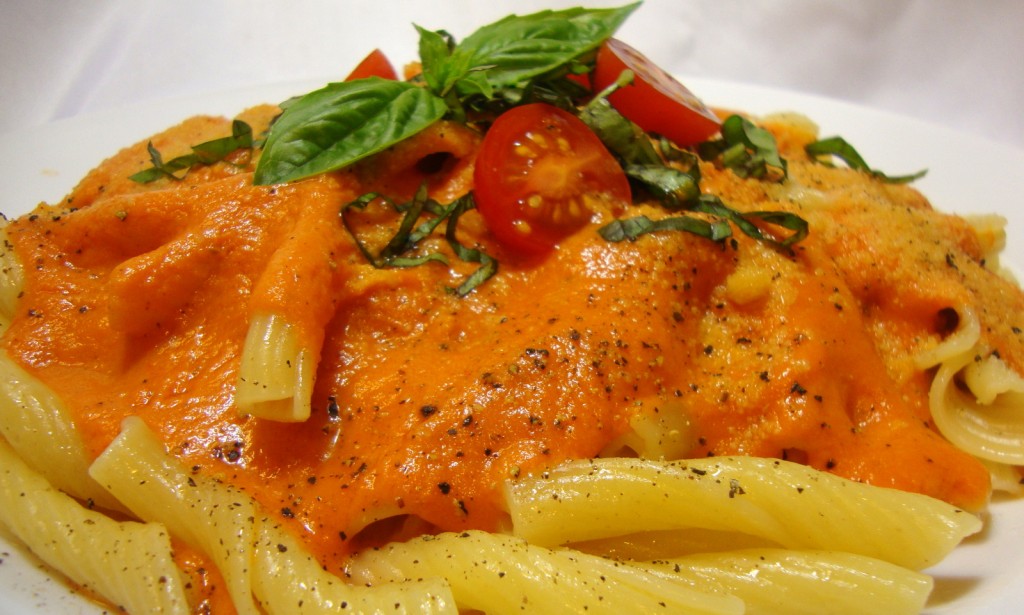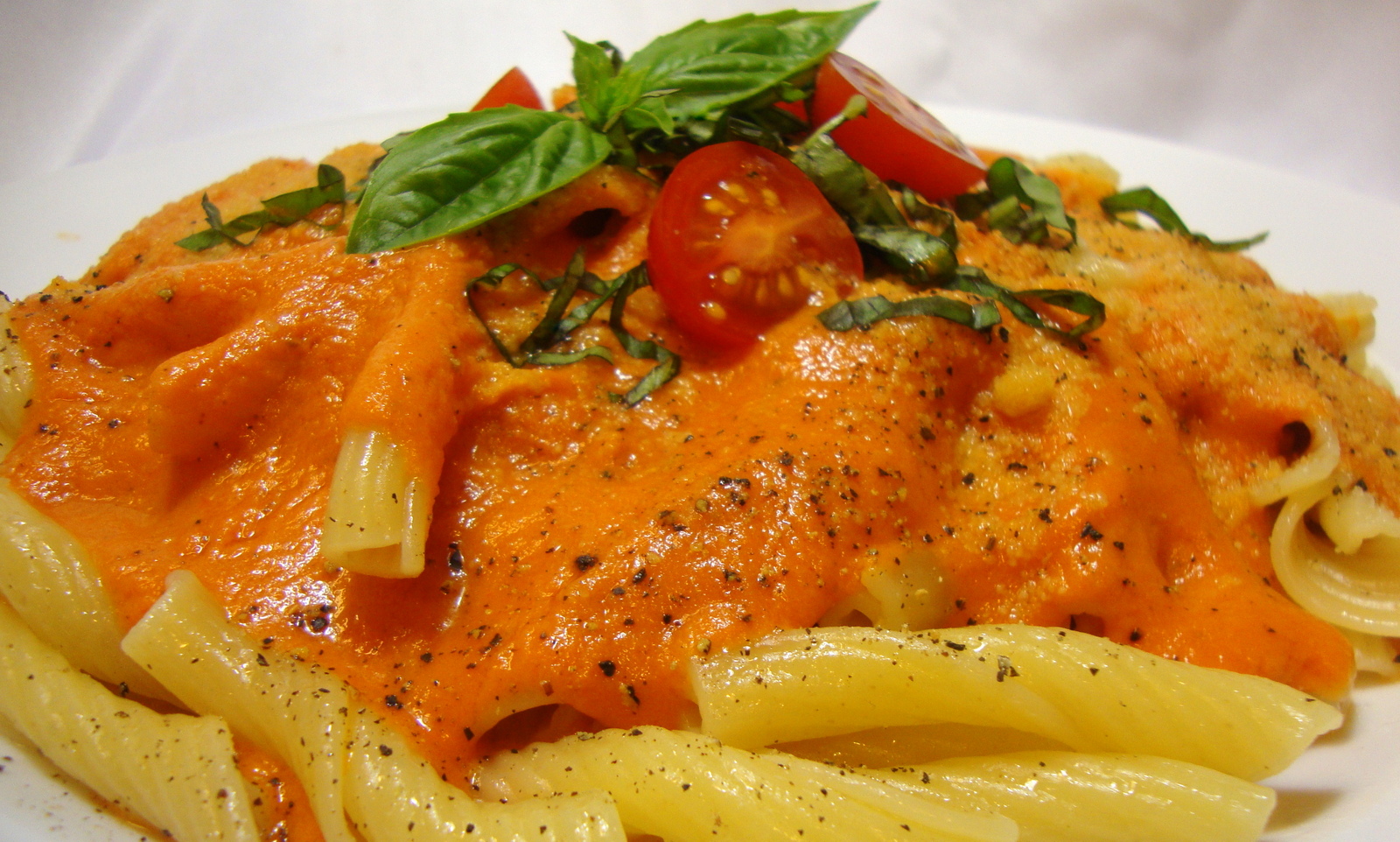 Vodka blush sauce is a creamy tomato-based pasta sauce flavored with vodka. This is my own variation which can be prepared with either cashew cream or soy cream. Sweet red pepper was included for flavor. For the photo, I used torchiette pasta rather than the traditional penne pasta.
Ingredients
• ¼ cup whole raw cashews*
• ½ cup water*
• 2 T olive oil
• 1 medium onion, peeled and chopped
• 1 large sweet red pepper, seeded and chopped
• 3 cloves garlic, chopped
• 1 can (28 oz) diced tomatoes with liquid
• ¼ cup premium vodka
• 2 T tomato paste
• 1 tsp dried basil leaves
• 1 tsp fine sea salt or kosher salt, or more to taste
• ½ tsp dried oregano leaves
• ½ tsp crushed red pepper flakes
• grated non-dairy parmesan
• julienned fresh sweet basil for garnish (optional)
• fresh ground black pepper, to taste
• cooked pasta of your choice (penne is commonly used)
*or ½ cup basic Soy Cream (from the Non-Dairy Evolution Cookbook or Seitan and Beyond Cookbook)
Preparation
In a blender, process the cashews and water on high speed for 2 full minutes. Transfer to a cup and chill until ready to use. Alternately, the cashew cream mixture can be replaced with ½ cup soy cream.
Add the olive oil to a skillet and place over medium heat. Add the onions and sweet red pepper and sauté until the onions are translucent. Add the garlic and sauté an additional minute or two.
Stir in the diced tomatoes with liquid, vodka, tomato paste, dried basil, salt, dried oregano and the red pepper flakes. Bring to a gentle simmer and cover the skillet. Reduce the heat to low and cook for 45 minutes, stirring occasionally.
Transfer the skillet mixture to the blender. Begin processing on low speed, gradually increasing to high. Process the contents until smooth and then transfer back to the skillet, placing over medium heat.
Stir in the cashew or soy cream and cook until heated through. Season the sauce with additional salt as needed to taste. Ladle the sauce over cooked pasta, sprinkle with parmesan and fresh ground black pepper and garnish with the optional fresh basil.