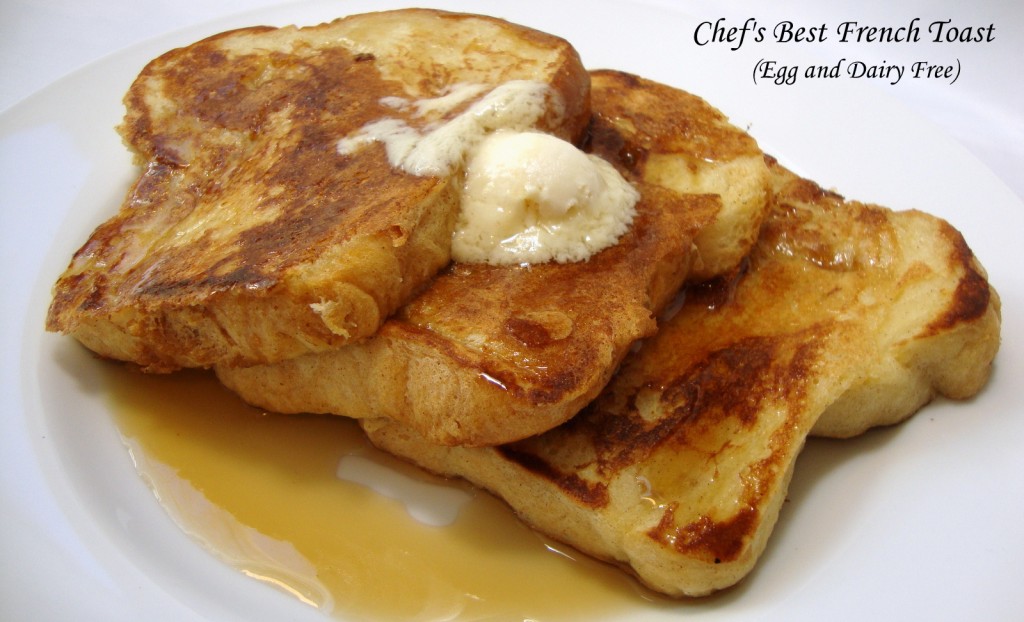 French toast is a classic breakfast and brunch favorite. My egg and dairy-free version consists of sliced bread dipped in a special eggless egg batter, pan-fried until golden brown and garnished with toppings of your choice.
Primary Ingredients
• 6 slices of bread*
• cooking oil
• toppings of your choice, such as non-dairy butter or margarine, real maple syrup, coconut syrup, fruit syrup, jam or marmalade; or top with fruit compote and dust with organic powdered sugar
*Bread that is a day or two old is best (but not stale). Whole grain bread has a heartier texture but I'm a traditionalist and prefer thick slices of homemade white bread.
Batter Ingredients
• ½ carton (about 6 oz.) Mori-Nu™ extra-firm silken tofu, or similar
• ¾ cup plain or vanilla non-dairy milk
• 3 T unmodified potato starch, cornstarch or arrowroot flour
• 1 T nutritional yeast flakes
• 1 T mild vegetable oil
• 1 T organic sugar, maple syrup or brown rice syrup
• 1 tsp real vanilla extract
• pinch of fine sea salt or kosher salt
• optional: ½ tsp cinnamon (or try pumpkin pie spice)
Technique
Carefully slide the silken tofu from the carton. Slice the tofu in half, reserving one half for other uses. Place the half block of tofu on a plate lined with a few paper towels or a lint-free kitchen towel and let drain for 10 minutes.
Crumble the tofu into a blender, add the remaining batter ingredients and process until completely smooth. Pour the blender mixture into a pie plate or wide, shallow dish.
Add 2 tablespoons cooking oil to a non-stick skillet. Crumple a paper towel and wipe the oil around the skillet (reserve the oily paper towel to re-wipe the skillet in between batches of French toast). Place the skillet over medium-low heat. The key to this recipe is to cook the toast low and slow so the batter cooks through without scorching. In other words, don't use high heat.
Dip a bread slice briefly into the batter. Coat both sides but do not soak. Gently shake the slice of bread to remove excess batter. Add the bread slice to the skillet and repeat with another slice. Fry until golden brown on each side (if the toast is taking an excessively long time to brown, the heat may be too low; increase the heat slightly).
Test each piece in the center with your finger to make sure the batter is cooked through and toast has firmed up. Transfer to a plate and place in a low oven while repeating the process with additional slices. Re-wipe the skillet with the oily paper towel before adding more battered bread (add a little more oil if needed).
Serve hot with a dab of non-dairy butter or margarine and the toppings of your choice.