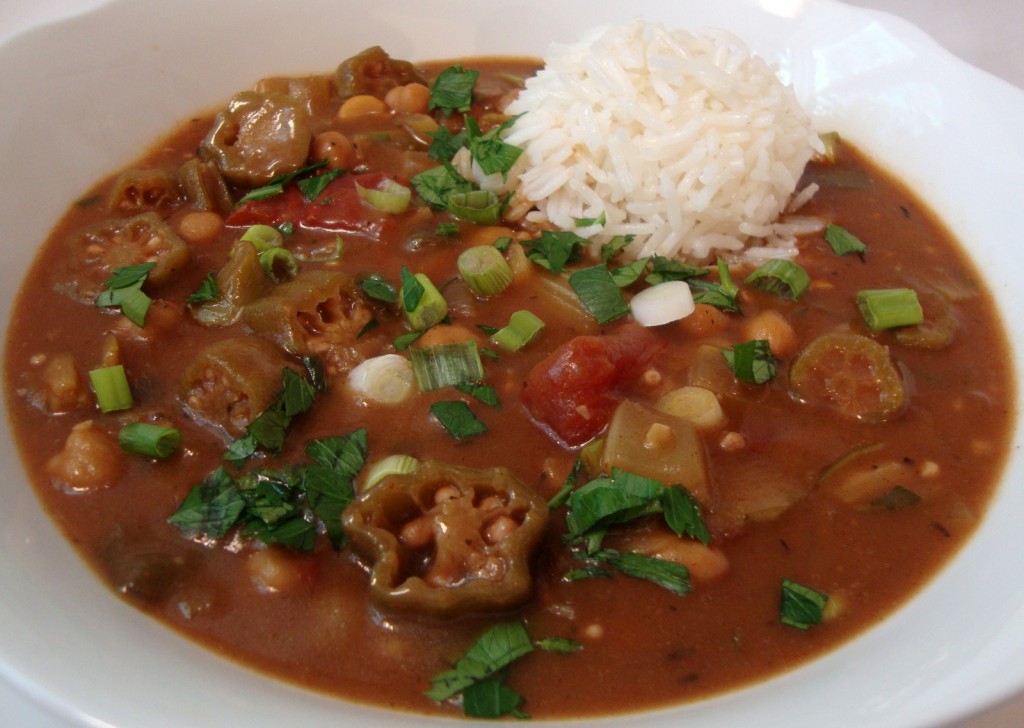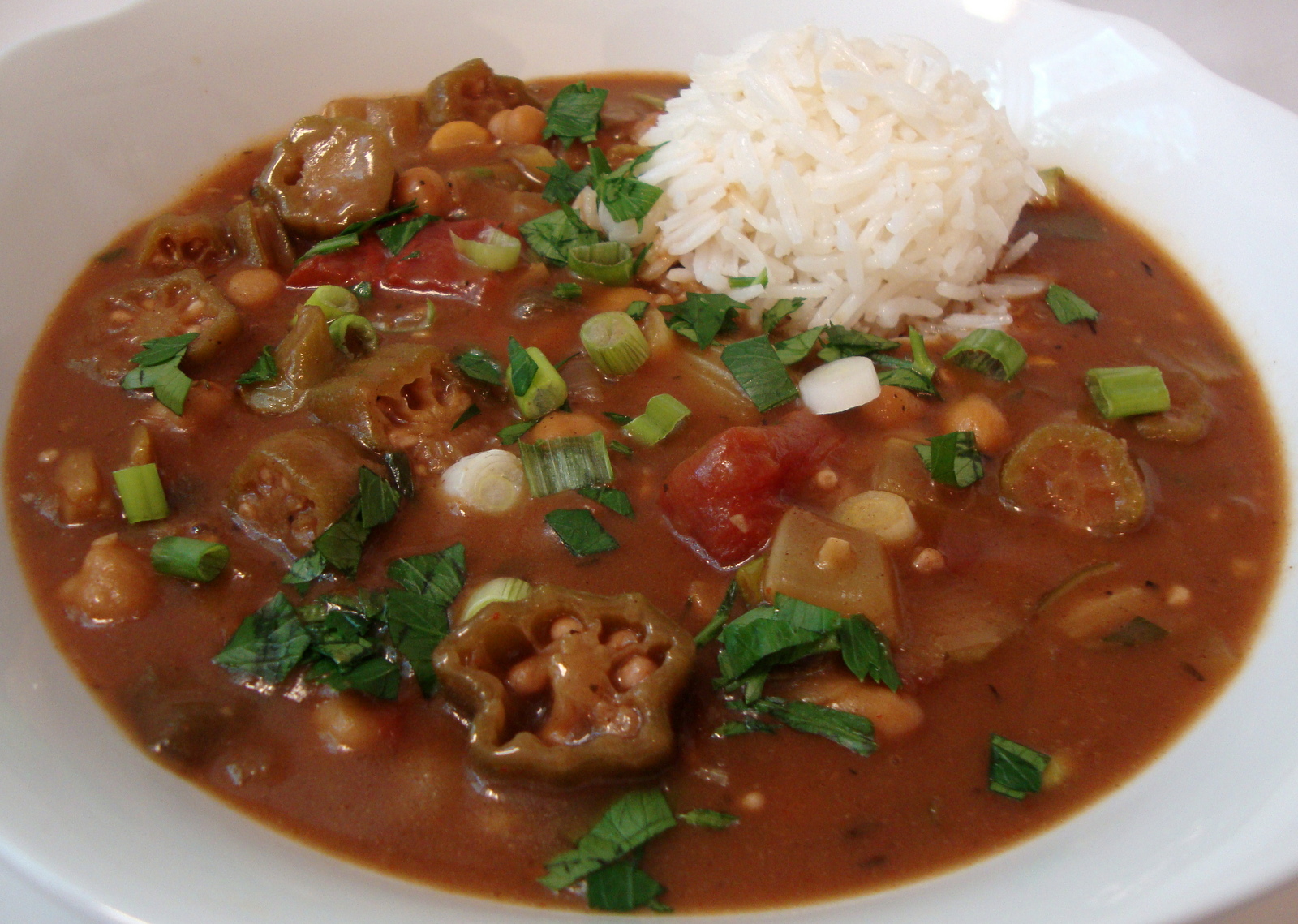 Gumbo is a heavily seasoned stew-like dish that originated in southern Louisiana from the Louisiana Creole people during the 18th century. The dish combines ingredients and culinary practices of several cultures, including West African, French, Spanish, German, and Choctaw. Creole Gumbo interacts between all class barriers and ethnicities in the south especially in New Orleans, appearing on the tables of the poor as well as the wealthy. Gumbo traditionally contains spicy meat sausage, chicken and seafood; however for my plant-based version, all meat proteins were replaced with nutritious and satisfying chickpeas. Kelp powder can be added to impart a subtle seafood taste, if desired. Gumbo is traditionally served with rice.
Note: Gumbo filé, which is dried and ground sassafras leaves, is an ingredient sometimes added to gumbo (but I did not include in this recipe). It imparts an earthy flavor and is also used to thicken the gumbo. After consulting a chef colleague from New Orleans who specializes in Cajun cuisine, she informed me that the filé is purely an optional ingredient. In restaurants it is often contained in a shaker on the table which gives the diner the option to use it as desired. For the cook, filé can provide thickening when okra is not in season.
Ingredients:
• ¼ cup cooking oil
• 1 large onion, chopped
• 1 green bell pepper, seeded and chopped
• 3 ribs celery, chopped
• ¼ cup vegan butter or margarine
• ½ cup all-purpose flour (or rice flour for gluten-free)
• 8 cloves garlic, minced
• 4 cups water
• ⅓ cup tamari, soy sauce or Bragg Liquid Aminos
(use wheat-free tamari or Bragg's for gluten-free)
• ¼ cup vegan Worcestershire sauce
• 2 tsp browning liquid (optional; to enrich color)
• 1 tsp liquid smoke, or more to taste
• 1 can (14 to 15 oz) diced tomatoes with juice or 2 cups peeled and chopped tomatoes
• 3 cups frozen sliced okra
• 2 cans (15 oz each) chickpeas, rinsed and drained or about 3 and ½ cups cooked chickpeas
• 3 sprigs fresh thyme leaves or ½ tsp dried thyme
• 1 tsp kelp powder (optional)
• ½ tsp cayenne pepper, or more to taste
• 1 bay leaf
• sea salt or kosher salt and coarse ground black pepper to taste
• 4 green onions, chopped, white and green parts
• ½ cup chopped flat leaf parsley plus chopped leaves for garnish
Technique:
Prepare your mise en place (assemble and measure all ingredients).
Heat the oil in a large cooking pot over medium heat. Add the onion, bell pepper and celery and sauté until softened, about 10 minutes. Add the garlic and sauté an additional minute. Add the butter or margarine and stir until melted. Sprinkle in the flour, stir to combine and cook until the flour emits a nutty aroma, about 2 minutes.
Incorporate the water in increments while stirring vigorously. Stir in the tamari, Worcestershire, liquid smoke, tomatoes with liquid, okra, chickpeas, thyme, optional kelp powder, cayenne and bay leaf. Bring to a boil then reduce the heat; partially cover and simmer for a minimum of 1 hour. While the gumbo is cooking, prepare white or brown rice, your choice, and keep warm until ready to serve.
Five minutes before serving, stir the green onions and parsley into the gumbo (reserve a little for garnishing). Add salt, black pepper or additional cayenne, kelp powder and/or liquid smoke as desired to taste. To serve, place a scoop of white or brown rice into serving bowls and ladle in the gumbo. Garnish with green onions and parsley.