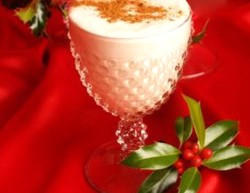 A rich and creamy non-dairy and egg-free concoction flavored with vanilla and nutmeg. Spike with your favorite liquor, if desired, such as brandy or rum and garnish with a dash of freshly grated nutmeg. Eggless eggnog is also fantastic when added to hot coffee! Pre-soaking the cashews is not required. This recipe yields about 4 cups or 1 quart.
Ingredients:
• 1 cup (5 oz.) whole raw cashews
• 3 and ½ cups non-dairy milk of your choice
• 1 cup organic sugar
• 3 T nutritional yeast
• 2 tsp real vanilla extract
• ½ tsp ground nutmeg plus additional for garnish
• ¼ tsp fine sea salt
• optional: liquor of your choice
Notes: If the mixture is too thick for your liking, small amounts of additional non-dairy milk can be added to adjust the consistency. Keep in mind that if liquor will be added to the eggnog, this will also dilute the consistency.
Technique:
Place the cashews and the non-dairy milk in a high-powered blender with the remaining ingredients (except for the optional liquor) and process the mixture for 2 full minutes on high speed. Pour the eggnog through a fine mesh strainer into a sealable container and chill thoroughly.
Discard any undissolved solids captured in the strainer. Stir or shake the eggnog before serving and stir in the optional liquor. Pour into individual glasses and garnish with grated nutmeg. Store refrigerated and consume within 7 days.