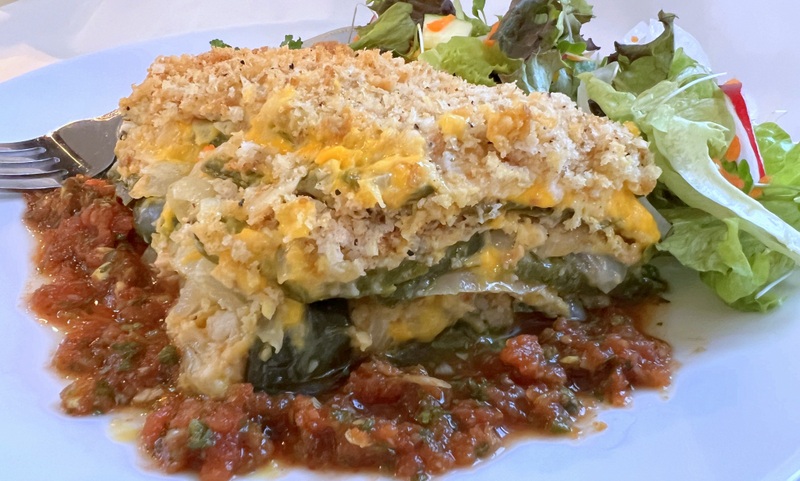 My new brunch "go-to", Cheesy Chile Rellenos Casserole is a quick and easy vegan version of the classic Mexican dish. Since it's baked, there's no deep-frying involved. Skinning and stuffing the peppers isn't necessary either. The finished casserole can be stored in the refrigerator once cooled and reheated as needed. I like to serve it with skillet potatoes, or refried beans and rice. Garnish with fresh or cooked salsa if desired. Vegan eggless scramble is a nice addition for a breakfast/brunch dish too.
Ingredients
6 Poblano or 8 Anaheim chiles, split length-wise with seeds and membrane removed
2 medium sweet yellow onions, sliced thin
1½ cup vegan shredded cheddar, homemade* or commercial
1½ cup vegan shredded Monterey Jack or mozzarella, homemade* or commercial
2 or 3 slices day-old crusty bread
1 teaspoon each onion and garlic powder
½ teaspoon sea salt or kosher salt
½ teaspoon ground cumin
½ teaspoon coarse ground black pepper
*Delicious homemade vegan cheeses can be prepared with recipes from my Non-Dairy Evolution cookbook. See my website homepage for more information at: thegentlechef.com
Preparation
Preheat the oven to 375°F/190°C.
Mist a large baking dish with cooking oil spray.
Layer the bottom of the dish with half the onions. Layer the sliced peppers evenly in the dish. Top with the shredded cheddar. Layer the remaining onions and top with the shredded white cheese.
In a food processor, add the sliced bread and seasonings and process into coarse crumbs. Top the casserole with the seasoned crumbs and seal the dish with foil.
Bake for 90 minutes. Serve and enjoy!