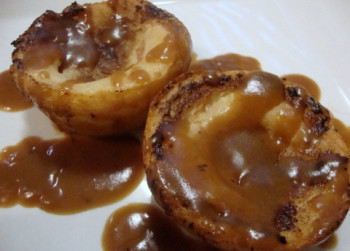 Yorkshire Pudding is an English dish traditionally made from a batter consisting of eggs, flour, and milk and then baked in hot pan drippings. It's not a pudding in the American sense of the word but rather a cross between a popover and a soufflé. The dish is usually served with roast meat and gravy and is a staple of British cuisine.
Creating a vegan version without eggs poses a fundamental problem, since the eggs are necessary to inflate the batter as the pudding cooks. However, with a few adjustments and substitutions a very satisfying, albeit less inflated version can be made. Be sure to read though the directions first and then follow them carefully for success. Serve the "Yorkies" with sliced roast seitan and plenty of savory gravy.
Ingredients:
• 1 cup unbleached all-purpose flour
• ½ tsp fine sea salt or kosher salt
• 2 T olive oil
• 1 T vegan butter or margarine, melted
• 1 tsp vegan Worcestershire sauce
• ¼ cup very warm water
• 1 T Ener-G™ egg replacer powder (or similar)
• ¼ tsp baking powder
• 1 cup plain unsweetened soymilk, room temperature
Technique:
Preheat the oven to 425°F.
Sift together the flour and salt into a mixing bowl.
In a small dish, mix together the melted butter or margarine with the Worcestershire sauce and 1 tablespoon olive oil. Spoon a little over one teaspoon into the bottoms of a 6-cup muffin tin (in other words, divide evenly).
In a small bowl, whisk together the very warm water, egg replacer powder and baking powder until frothy.
Place the muffin tin in the oven and set a timer for 3 minutes to heat the "pan drippings".
Meanwhile, add the soymilk, egg replacer mixture and the remaining tablespoon of olive oil to the flour and whisk vigorously until a smooth batter is achieved.
After 3 minutes, remove the muffin tin from the oven and immediately pour the batter, dividing evenly in each cup (about ⅓ of the way full). Place in the oven on a middle rack and set a timer for 35 minutes. Keep in mind that the puddings will have inflated only slightly and not in a dramatic fashion as their traditional egg-laden counterparts.
Remove the muffin tin from the oven and let cool for about 5 minutes. Serve hot.