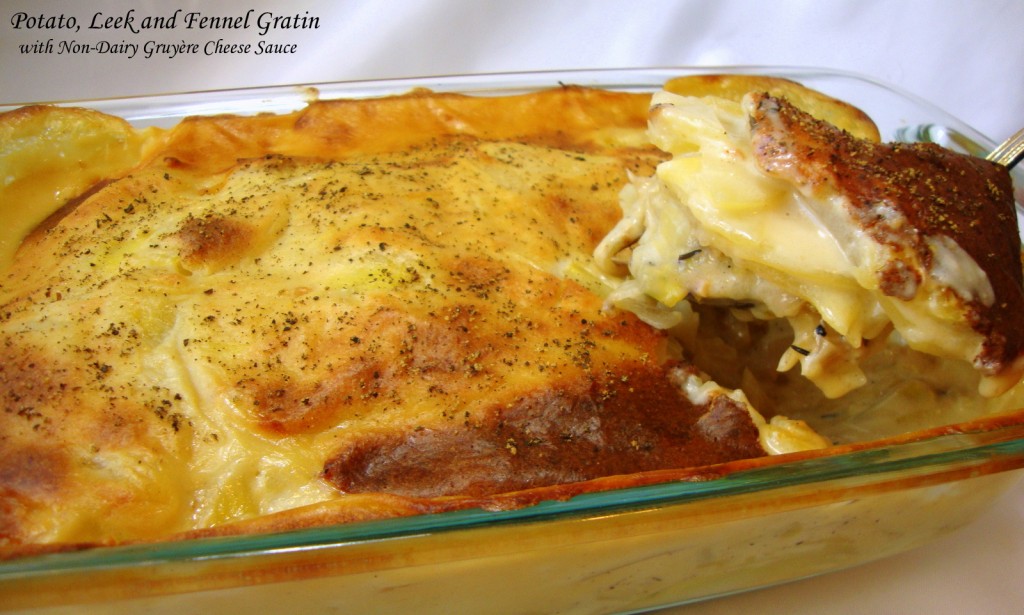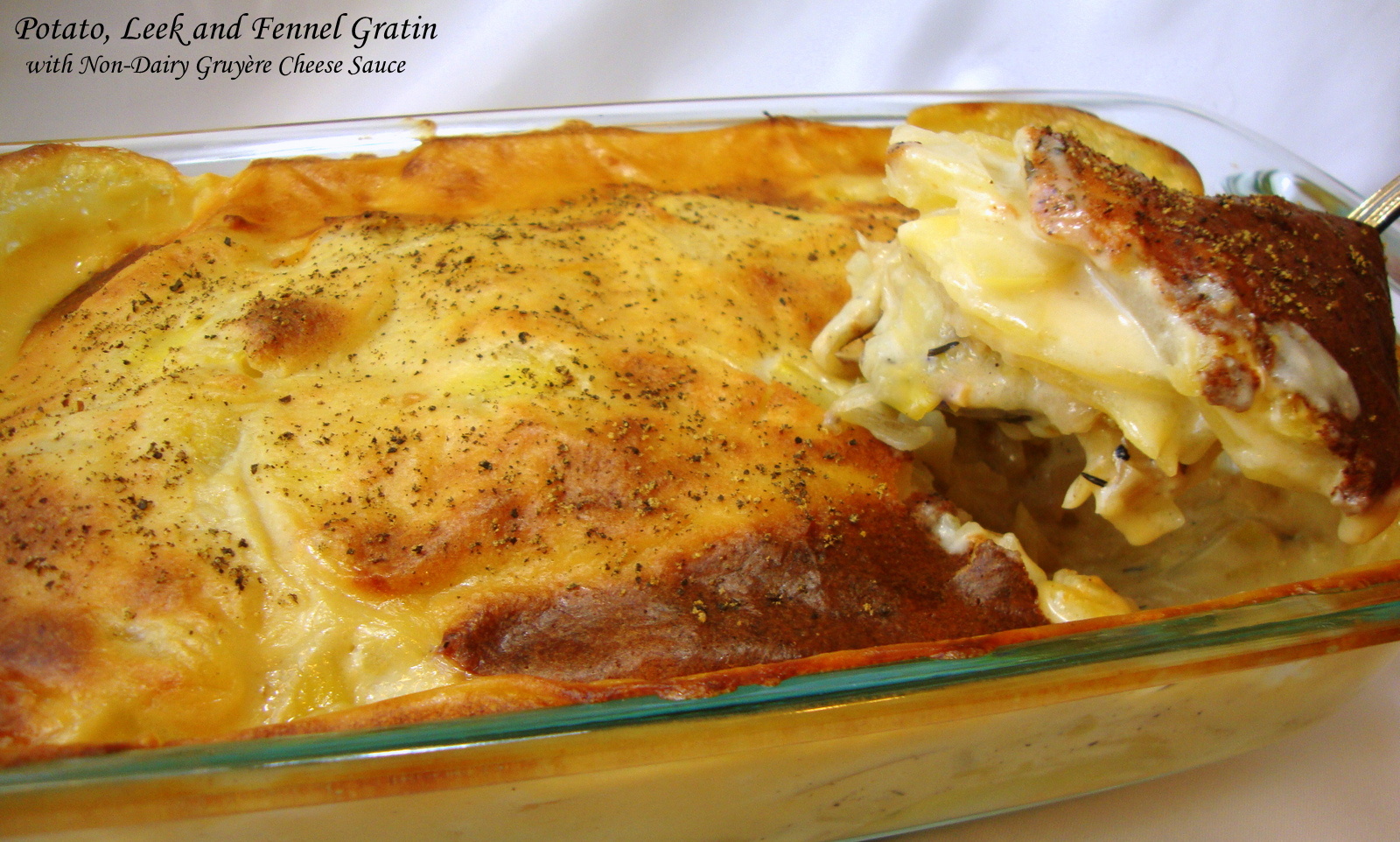 Sliced Yukon gold potatoes, fennel bulb and chopped leeks are bathed in a rich non-dairy Gruyère-style cheese sauce and baked until browned and bubbly.
Ingredients
• 2 T non-dairy butter or margarine, plus 1 T for greasing the baking dish
• 2 and ½ lbs Yukon gold potatoes
• 2 large leeks, white and light green parts only,
split lengthwise, rinsed well and chopped into half "moons"
• 1 large fennel bulb, cored and sliced very thin
• 2 cloves garlic, minced
• ½ tsp dried thyme leaves
• coarse ground black pepper, to taste
• 2 cups Gruyère Cheese Sauce (see following recipe)
Gratin Preparation
Grease the interior of a shallow, rectangular baking dish with 1 tablespoon butter or margarine and set aside.
Peel the potatoes and slice them ⅛-inch thick. A mandoline makes the job much easier and creates more uniform slices – but watch your fingers! Place the slices immediately into a large pot of water to prevent the slices from oxidizing (turning brown). Add 2 teaspoons of salt. Bring to a boil and cook for exactly 1 minute. Remove from the heat and drain the slices thoroughly in a colander. Set aside.
Add the remaining butter or margarine to a skillet and place over medium heat. Add the leeks and fennel and sauté until tender and golden. Add the garlic, thyme and a dash of black pepper and sauté an additional minute. Remove from the heat and set aside.
Preheat the oven to 375°F/190°C.
Prepare the Gruyère cheese sauce; set aside over low heat to keep warm.
Layer ⅓ of the potatoes in the bottom of the baking dish and top with half of the leek and fennel mixture. Pour half of the cheese sauce over the layers. Repeat layering with another ⅓ of the potatoes, the remaining leek and fennel mixture and finish with a layer of potatoes. Cover with the remaining sauce and season with additional ground black pepper.
Bake uncovered for 45 minutes or until browned nicely. Remove from the oven and serve.
Gruyère Cheese Sauce
Dairy Gruyère is a slightly salty, ripened Swiss cheese. While its texture and complex flavor is difficult to reproduce in non-dairy form, this cheese sauce captures the flavor of Gruyère fairly well, while retaining its own unique character.
Sauce Ingredients
• 1 and ¾ cup plain unsweetened soymilk
• ¼ cup mild vegetable oil
• ¼ cup tapioca starch
• ¼ cup mellow white miso paste
• 2 T nutritional yeast flakes
• 2 T extra-dry vermouth or dry white wine
• 2 tsp raw apple cider vinegar
• ½ tsp kappa carrageenan (available from ModernistPantry.com)
• ½ tsp fine sea salt or kosher salt
• ¼ tsp dry ground mustard
• ¼ tsp ground coriander
*The vermouth or wine can be omitted for health or ethical reasons, but this will alter the flavor profile.
Sauce Preparation
In a small saucepan, vigorously whisk together the ingredients until smooth (a blender can also be used to efficiently combine the ingredients). Cook the mixture over medium-low heat, stirring slowly and continually with a flexible spatula.
As the mixture thickens and curdles (forms lumps), begin stirring vigorously until the curds disappear and the cheese becomes very thick, smooth and glossy. Keep warm over low heat, stirring occasionally, until ready to use. For a spreadable consistency, remove from the heat and allow the melt to thicken.

Potato, Leek and Fennel Gratin