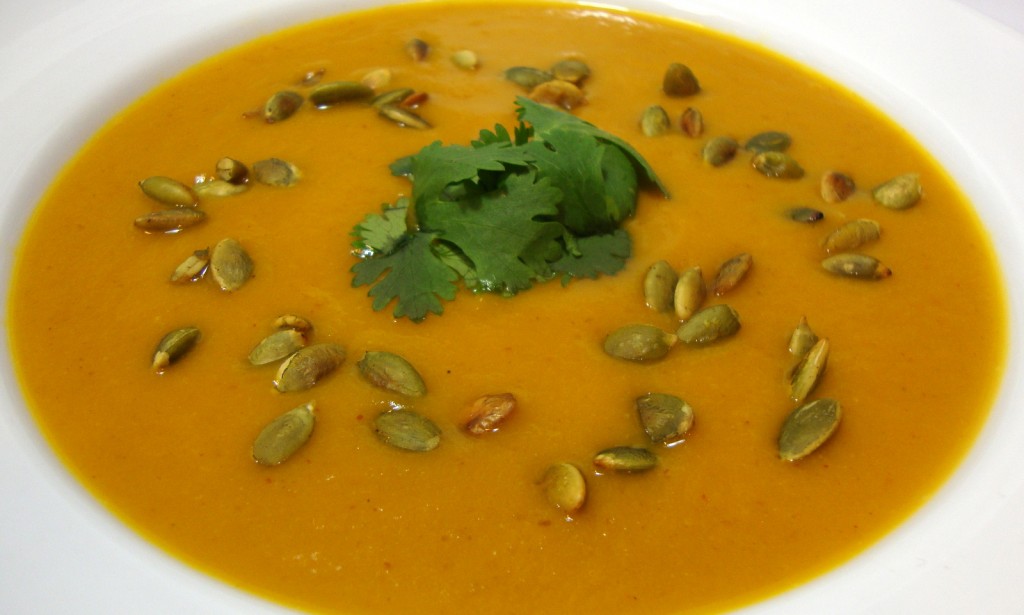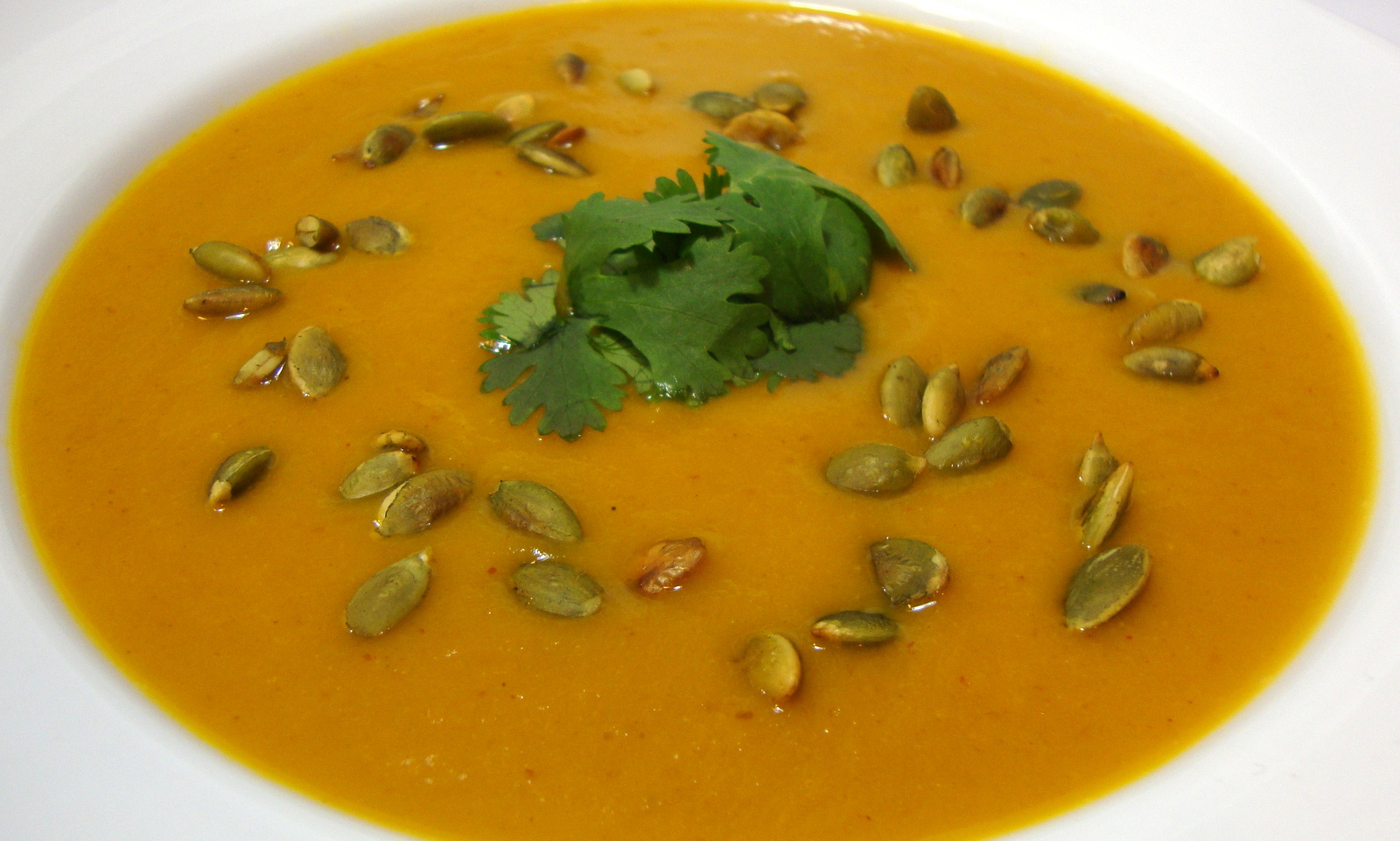 Chipotle pepper in adobo sauce adds a spicy and smoky kick to this velvety pumpkin soup. For timid palates, the chipotle pepper can be replaced with a mild chili powder.
Ingredients:
• 2 T olive oil
• 1 medium onion, chopped
• 2 cloves garlic, chopped
• 1 and ¾ cup roasted and mashed pumpkin* or 1 can (15 oz.) pure pumpkin
or 1 and ¾ cup roasted and mashed butternut squash
• 4 cups (1 quart) vegan no-chicken broth or vegetable broth
• 1 chipotle pepper in adobo sauce (or 2 if you want to break a sweat; for timid palates omit the chipotle pepper and add 2 tsp mild chili powder)
• 1 tsp ground cumin
• ½ tsp ground coriander
• sea salt or kosher salt to taste
• ¼ cup pepitas (shelled pumpkin seeds)
• cilantro for garnish (optional)
*For fresh roasted pumpkin, cut a sugar pumpkin in half. Scoop out the seeds and strings and place the halves face down on a foil-lined baking sheet. Bake at 350°F until soft, about 45 minutes to 1 hour. Cool and then scoop out the flesh. Freeze any remainder for other recipes. Butternut squash can also be used in this recipe as an alternate to pumpkin. Simply follow the same roasting technique.
Technique:
In a dry skillet, toast the pepitas over medium heat. Stir the seeds frequently to evenly toast and prevent scorching. Set aside.
Add the olive oil to the skillet and place over medium heat. Add the onions and sauté until lightly golden. Add the garlic and sauté an additional minute. Transfer the mixture to a blender.
Add the pumpkin, 2 cups of stock or broth, the chipotle pepper and the cumin and coriander; process until completely smooth. Transfer to a large cooking pot and add the remaining stock/broth. Bring to simmer, partially cover and cook for 30 minutes; season with salt to taste. Ladle into individual bowls and garnish with the toasted pepitas and optional cilantro.
Serve with warm flour tortillas if desired. To warm the tortillas, roll them up securely in foil and place in a 350°F oven for 10 to 15 minutes.

Spicy Chipotle Pumpkin Soup with Toasted Pepitas