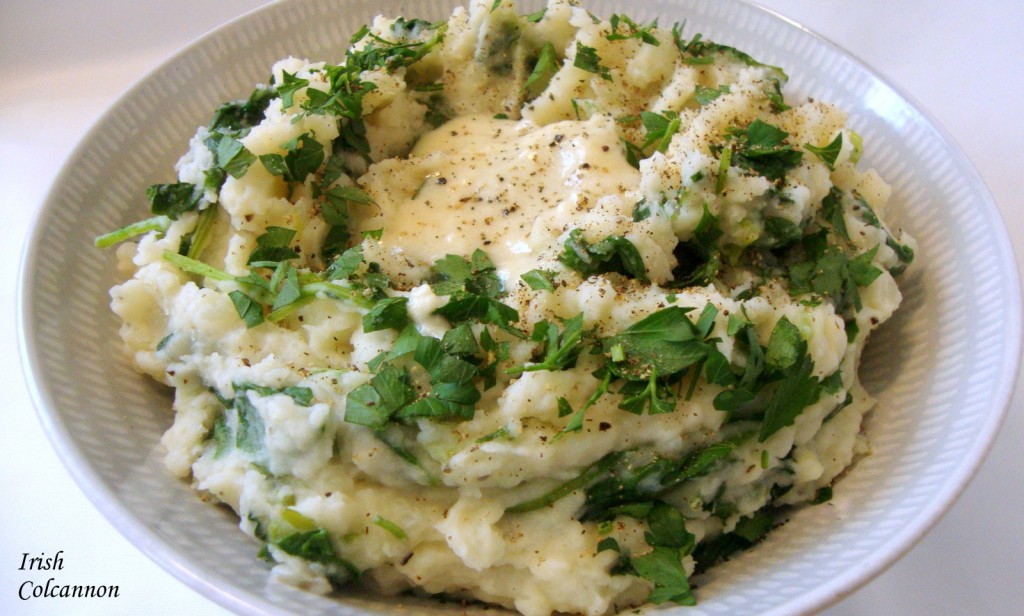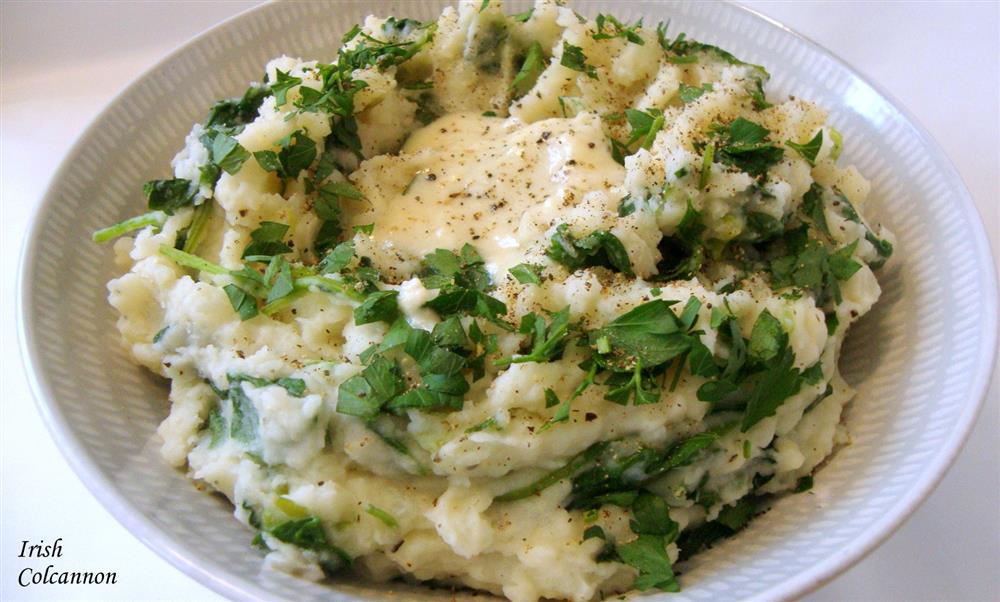 Colcannon is a traditional Irish dish consisting of creamy, buttery mashed potatoes and tender cooked kale seasoned with green onions, salt, pepper and parsley.
Ingredients
• 3 pounds russet potatoes (about 4 large)
• ½ cup non-dairy butter or margarine,
plus 1 to 2 T additional melted butter or margarine for garnish
• 1 cup hot non-dairy milk
• 1 T olive oil
• 6 oz baby kale; or mature kale with tough ribs removed and then chopped
• 3 green onions, white and green parts, finely chopped
• sea salt or kosher salt, to taste
• coarse ground black pepper, to taste
• 2 T chopped parsley for garnish
Preparation
Peel and cut the potatoes into large chunks. Immediately immerse the cut potatoes in 4 quarts of water. Add 1 tablespoon of salt and bring to a boil. Cook until fork tender, about 8 to 10 minutes.
While the potatoes are cooking, flash sauté the kale and green onions with the olive oil in a large skillet until the kale is wilted and tender. Transfer to a bowl and set aside.
Drain the potatoes in a colander and then transfer to a large mixing bowl or back to the cooking pot. Mash the potatoes with the butter and hot milk. Add salt and pepper to taste. Stir in the sautéed kale and green onions.
Transfer the colcannon to a serving dish and garnish with the parsley. Make a well in the center of the colcannon and garnish with a tablespoon or two of melted butter or margarine. Serve immediately.