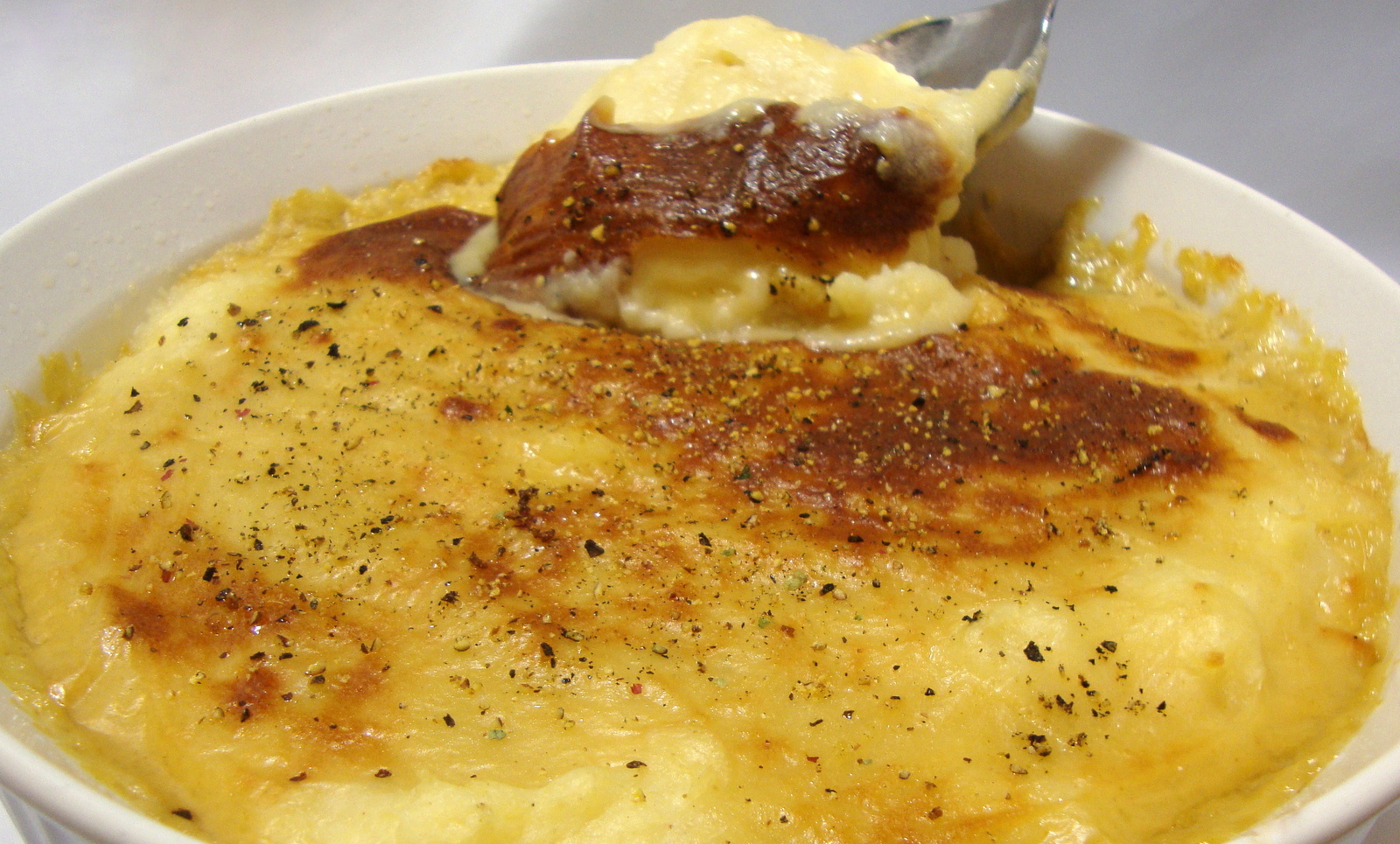 A fluffy and creamy gratin of whipped potatoes and parsnips blended with non-dairy butter, tangy non-dairy Crème Fraîche and gooey, melted non-dairy Jarlsberg cheese.
Ingredients:
• 1 cup Quick Crème Fraîche (from The Non-Dairy Evolution Cookbook)
– or 1 cup non-dairy milk of your choice
• 6 medium russet potatoes
• 4 medium parsnips
• 1 cup Jarlsberg Melt (recipe following)
• ¼ cup non-dairy butter or margarine
• ½ tsp fine sea salt or kosher salt
• ¼ tsp ground white pepper
• ⅛ tsp ground nutmeg
Technique:
If using the Crème Fraîche, prepare according to the cookbook instructions and refrigerate until ready to use. Non-dairy milk can be used instead, but the flavor and richness of the gratin will be altered somewhat.
Peel and cut the potatoes into large chunks. Place the potatoes immediately into a large cooking pot with plenty of water to cover. This will prevent oxidation of the potatoes (turning brown) while the parsnips are peeled and sliced.
Peel and slice the parsnips. Add them to the pot with 1 tablespoon of salt. Bring the water to a boil and cook until the vegetables are fork tender, about 15 minutes. Avoid overcooking.
While the water is coming to a boil and the vegetables are cooking, prepare the Jarlsberg Melt and set aside to cool.
Preheat the oven to 350°F. "Butter" a large baking or casserole dish and set aside.
When the vegetables are done cooking, drain them thoroughly in a colander for a few minutes and then transfer to a large mixing bowl. Add the butter, salt, white pepper and nutmeg and mash thoroughly using a potato ricer or masher.
Add the Crème Fraîche or non-dairy milk in increments and whip the mashed vegetables with an electric rotary mixer (if you have one). Otherwise continue to mash by hand until the mixture is smooth and fluffy.
Note: Never use a blender or food processor to mash potatoes as this will damage the cell structure of the potatoes and cause them to fall flat or become gooey. When potatoes are boiled, their starch granules swell. If those granules are broken too vigorously, the cells release large quantities of starch, resulting in potatoes with a pasty consistency.
Transfer the mixture to the baking dish and top with the Jarlsberg Melt. Bake uncovered for 30 minutes and then place under the broiler for 1 to 2 minutes to achieve a bubbly and browned cheese crust on top. Serve hot.
Jarlsberg Melt
(from The Non-Dairy Evolution Cookbook)
Jarlsberg shares flavor similarities with Swiss cheese and can best be described as mild, buttery and nutty with a hint of sweetness. Do not omit the ground coriander, even though only a small amount is needed, as it is essential to the flavor of this melt. This recipe yields about 1 cup of melted cheese.
Ingredients:
• ¾ cup pure soymilk
• ¼ cup mild vegetable oil
• 3 T tapioca flour
• 1 T nutritional yeast flakes
• 1 T dry sherry or dry white wine*
• 2 tsp mellow white miso paste
• ½ T (1 and ½ tsp) sesame tahini
• ¼ tsp fine sea salt or kosher salt
• ¼ tsp guar gum, sodium alginate or xanthan gum
• ⅛ tsp ground coriander
*The sherry or wine can be omitted for health or ethical reasons, but this will alter the flavor profile.
Technique:
In a small saucepan, vigorously whisk together the ingredients until smooth. Cook the mixture over medium-low heat, stirring slowly and continually with a flexible spatula. As the mixture thickens and curdles (forms lumps), begin stirring vigorously until the curds disappear and the cheese becomes very thick, smooth and glossy. Set aside until ready to use in the recipe.

Whipped Potato and Parsnip Gratin featuring Jarlsberg Melt