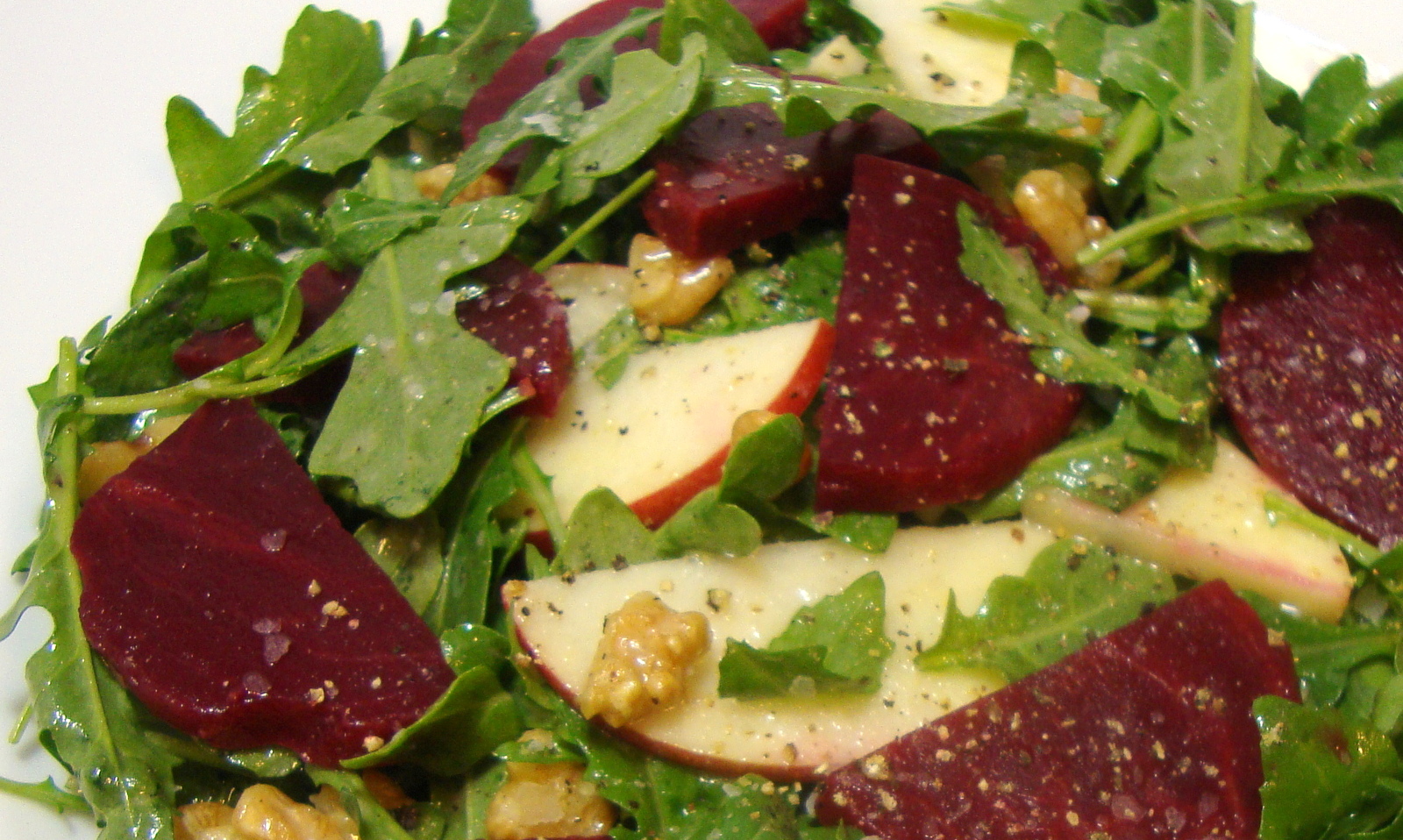 This salad is a combination of earthy beets, fresh sweet apple, crunchy walnuts and peppery arugula. Mellow white miso adds plenty of umami (the Japanese word used to describe a savory flavor) to the simple citrus vinaigrette.
Ingredients for the dressing:
• juice of 1 fresh orange
• 2 T mellow white miso paste
• 2 T rice vinegar
• 2 tsp Dijon mustard
• 1 small shallot, minced
• 1 clove garlic, minced
• ½ cup mild salad oil, such as grapeseed, sunflower or safflower
• ½ tsp Asian red pepper sauce (such as Sriracha™)
Ingredients for the salad:
• 1 lb. trimmed medium beets
• coarse sea salt or kosher salt and coarse ground black pepper, to taste
• 8 packed cups arugula (about 8 oz.) or mixed baby greens of your choice
• 2 crisp apples, such as Granny Smith, Honeycrisp or Gala
• ½ cup walnuts, toasted and chopped
Technique:
In a shaker bottle or similar sealed container, add all dressing ingredients. Seal and shake vigorously to emulsify the dressing. The dressing will keep for about 1 week, refrigerated. Shake well to re-emulsify before using.
In a large cooking pot, place the beets in plenty of water to cover. Bring to a boil, reduce to a vigorous simmer and cook until the beets can be pierced easily with a fork, about 25 minutes. Drain and set aside to cool. Peel the beets, cut them in half and then thinly slice. Arrange them on a platter or on salad plates and season with salt and pepper.
Cut the apples in half and thinly slice. Combine the slices with the arugula (or other greens) in a large mixing bowl; season with salt and pepper and toss with enough vinaigrette to lightly but sufficiently dress the greens and apples. Top the beets with the greens and apple, sprinkle with the walnuts and serve.