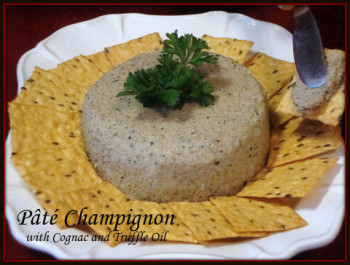 An elegant, earthy and rich mushroom pâté flavored with cognac and truffle oil. This pâté has a strong mushroom flavor; for a milder pâté, reduce or omit the truffle oil.
Ingredients:
• ½ block (7 oz. before pressing) extra-firm water-packed tofu
• 1 to 2 tsp white or black truffle oil
(according to intensity of flavor desired)
• 1 tsp fine sea salt or kosher salt
• 2 T vegan butter or margarine
• ½ 1b (8 oz.) cremini mushrooms (baby portabellas), sliced
• ½ cup chopped shallots or onion
• ½ cup cognac, brandy or dry white wine (i.e., Pinot Grigio; Sauvignon Blanc)
• ¼ cup chopped flat-leaf parsley, lightly packed
• 6 cloves garlic, chopped
• 1 and ½ tsp fresh thyme leaves or ½ tsp dried thyme
• 1 tsp dried porcini mushroom powder, optional
• 2 T organic refined coconut oil
• ½ to 1 tsp cracked black pepper, or to taste
Technique:
Press the tofu until it is not releasing any more liquid. It is important to press the tofu as dry as possible.
Line a 2-cup minimum plastic, metal or ceramic container with plastic wrap. The container will serve as the mold to shape the pâté.
Crumble the tofu into a food processor. Add the truffle oil and salt and set aside.
In a skillet over medium heat, melt the butter or margarine. Add the shallots/onions and mushrooms and sauté until the vegetables are nicely browned. Add the cognac, parsley, garlic, thyme and optional mushroom powder and sauté until the liquid has completely evaporated. Transfer the contents of the skillet to the food processor.
Remove the lid from the jar of coconut oil and place the jar in a microwave. Heat until the solid oil liquefies, about 30 seconds to 1 minute (this will depend upon the solidity of the coconut oil). Alternately, you can place the jar in about an inch of simmering water and melt the oil in the same manner. Measure 2 tablespoons and add to the food processor. The coconut oil is used to firm the pâté when chilled.
Process the mixture until smooth. Add the pepper and pulse a few times to combine. Taste and add additional salt or pepper as desired.
Transfer the mixture to the container, smooth the surface, cover with additional plastic wrap and refrigerate for several hours until firm. When firm, lift the pâté from the container and invert onto a serving plate. Peel away the plastic wrap. Spread on hors-d'oeuvre toast or savory crackers.